Our History
The American Province began in poverty with many hardships. In St. Louis, Father Dunne was looking for Sisters to staff and operate Newsboys Home, an institution for unwanted and neglected boys. The Sisters arrived on December 28, 1923 but soon realized that they did not have the training to do this work. The next year negotiations began for the Sisters to purchase Nazareth Home, a residence for the elderly, in Alton, Illinois. On April 1, 1925, the Sisters moved to Alton, thus establishing the first Thuiner Franciscan house in the United States, renamed Saint Anthony's Infirmary. By the turn of the century, this humble beginning, with five German Franciscan Sisters, would grow to 108 Sisters in fifteen houses in six states in America and over forty Sisters in twelve convents in Brazil.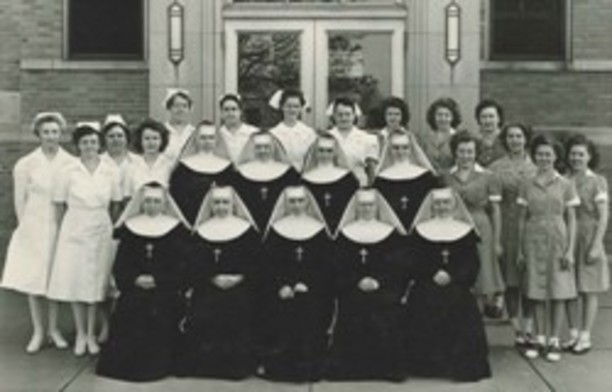 (Historical Mother of Good Counsel Home, St. Louis Photo)
Now in the third millennium, the Sisters of St. Francis of the Martyr St. George, like St. Francis, have listened and have heard God's call to take an active part in rebuilding His Church. The Sisters, looking on Him Whom they have pierced, take the charism entrusted to them and strive to make His merciful love visible through their service to others in a variety of apostolic activities – hospital work, care of the elderly, education, day care, religious education, parish work, and social services.  In the spirit of Mother M. Anselma, the Sisters continue to seek to know God's Will for them as they strive to serve His people.