Franciscans devoted to the Sacred Heart
Our Mother M. Anselma was animated by the love of Christ.  Called to follow St. Francis of Assisi, she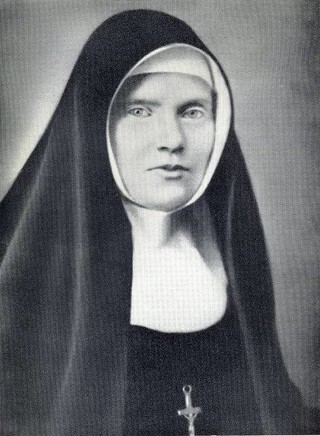 recognized her smallness before the Lord and rejoiced in His humility in becoming man for each of us.  She sought to seek His face, the face of the Poor One, the Crucified One, the Pierced Bridegroom, in all that she did.    
Mother was characterized by her firm resolve to be a holocaust before the Lord, and desired to follow Him by living a simple, joyful life.  She knew that only by gazing upon the Pierced Heart of her Savior could her own heart be transformed to be fully united to His. We, her daughters, try to follow the example that Mother set for us all. Simple, humble, joyful sisters.
 

"Do not lose courage even if your worries seem difficult.  Flee in such moments to the Sacred Heart. 

There you will always be consoled."  - Mother M. Anselma, foundress
A Word from Mother M. Maximilia
Joy Comes in the Morning
All of us have gone through troubles that seem to last forever. Even when we know in our minds that the difficulty will pass, ensnared for a time in its net, we cannot imagine ever being free. This must be a universal human experience because Psalm 30 assures us that while weeping lasts for a night, joy comes in the morning.
I had a literal experience of this several years ago. Just a few days after surgery, with the pain medicine wearing off, I was sure the trip to the operating room had been a mistake! Now that I was supposedly better, I felt worse than when something had actually been wrong with me. Not able to sleep, I fretted over my predicament the entire night. When the sun came up in the morning, I greeted it wide awake and annoyed. How dare the day come without apology when I was suffering? Of course, that day was followed by every other day until now, I did indeed recover from surgery, and I am grateful for the new beginning that comes with every sunrise.
Until the world ends, morning will always come. No matter how we feel, what we have or have not accomplished, what we regret or love, a new beginning is offered to us daily. It is fitting that we await Christ, the Beginning, who makes all things new during the night of winter. In Him, all of our weeping is redeemed. Everything that threatens to crumble into nothingness is saved. Every love, every affection, every hope, and every desire is set right in Christ. He saves us not only for the life to come, but also for this fragile human existence now. The truth of eternity begins in time. May we savor Advent, this night of waiting, knowing that Christ our Joy comes in the morning!