Franciscans devoted to the Sacred Heart
Our Mother M. Anselma was animated by the love of Christ.  Called to follow St. Francis of Assisi, she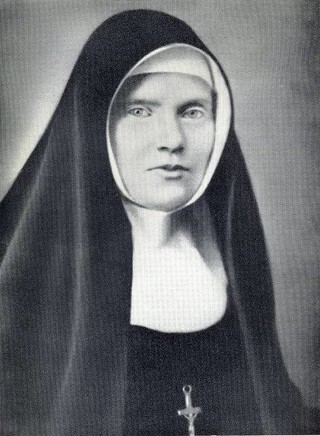 recognized her smallness before the Lord and rejoiced in His humility in becoming man for each of us.  She sought to seek His face, the face of the Poor One, the Crucified One, the Pierced Bridegroom, in all that she did.    
Mother was characterized by her firm resolve to be a holocaust before the Lord, and desired to follow Him by living a simple, joyful life.  She knew that only by gazing upon the Pierced Heart of her Savior could her own heart be transformed to be fully united to His. We, her daughters, try to follow by the example that Mother set for us all. Simple, humble, joyful sisters.
 

"Do not lose courage even if your worries seem difficult.  Flee in such moments to the Sacred Heart. 

There you will always be consoled."  - Mother M. Anselma, foundress
A Word from Mother M. Maximilia
Are You The One?
Some of us like to be surprised and some of us do not. For most of us, it depends on the nature of the surprise. I vividly remember a surprise gone wrong on the occasion of my nineteenth birthday. My college roommate had planned a party for me. Because the plans were so well hidden, I had no inkling and decided to go out for the evening. Discovering this, she confessed what she had done and begged me to be back at a decent time – which I could not to do since I was at the mercy of my hosts. When I failed to show up in a timely way, she was compelled to tell the invited guests that I knew about the party, persuading them not to leave. When I finally arrived, I did not know that they knew, so I pretended to be surprised. Everyone knew that I knew, but was pretending not to know . . . . Surprises can be uncomfortable.
We experience surprising events all the time, and even though it is not obvious, the capacity to be surprised is essential to being a disciple of Christ the Lord. Why is that? This capacity indicates a personality that is open to seeing and accepting reality. This may sound easy, but our prejudices and assumptions, preferences and even memories often stand in the way of our encounter with the real.
It happens to the best of us. Remember John the Baptist in prison? The greatest of all the prophets sent his disciples to Christ to ask, "Are you He who is to come or shall we look for another?" Pope Benedict XVI tells us that John was tormented by the "utterly different personality of Jesus." When Christ comes, He asks to be welcomed as He is. We are asked to love Him, and not our idea of Him, our past with Him, or even our love of Him. Considered in this way, discipleship is not an accomplishment, but rather the fruit of amazement in His presence that becomes a form of life. And the amazement erupts continuously because the One we encounter is the New Man. St. Francis of Assisi, whom we celebrate this month, understood this mystery. Otherwise, how could he have said these words? "Let us begin, brothers, to serve the Lord God, for, up to now, we have made little or no progress." A disciple is always a beginner because he lives his life in the presence of the Beginning. Amazing.