Franciscans devoted to the Sacred Heart
Our Mother M. Anselma was animated by the love of Christ.  Called to follow St. Francis of Assisi, she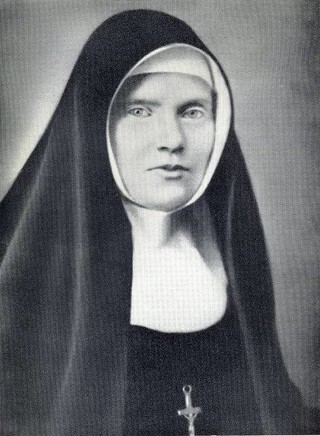 recognized her smallness before the Lord and rejoiced in His humility in becoming man for each of us.  She sought to seek His face, the face of the Poor One, the Crucified One, the Pierced Bridegroom, in all that she did.    
Mother was characterized by her firm resolve to be a holocaust before the Lord, and desired to follow Him by living a simple, joyful life.  She knew that only by gazing upon the Pierced Heart of her Savior could her own heart be transformed to be fully united to His. We, her daughters, try to follow the example that Mother set for us all. Simple, humble, joyful sisters.
 

"Do not lose courage even if your worries seem difficult.  Flee in such moments to the Sacred Heart. 

There you will always be consoled."  - Mother M. Anselma, foundress
A Word from Mother M. Maximilia
Easter Laughter
Who of us doesn't like a good joke or trick? When I was about four years old, my mother and I cracked open a pile of walnuts, ate what was inside, and glued the shells back together. She put them in a decorative dish and displayed them on our coffee table. There they gathered dust until the day the guest came. My mother was bustling around the kitchen, and I found myself alone with the young lady who had begun cracking open the carefully arranged pieces of our decoration. I felt dizzy with delight for sheer anticipation of what was coming. With my gaze transfixed on our victim as she struggled with the walnuts, I felt like yelling out, "They're empty, they're empty!" Finally, when she pried the super-glued shells apart and gasped, I clapped my hands and squealed! My entertaining days were over after that, but the joy of that unintended trick had been worth it.
The secret mechanism of a trick or a joke is that what is obvious to one party is totally unsuspected by the other. And whatever other results occur, the goal of a joke or trick is to make someone laugh. Pope Benedict XVI reminds us of the baroque tradition of telling a joke during the Easter homily. The goal was to make the congregation laugh for the simple reason that Christ had conquered sin and death. In the ultimate "trick" of the resurrection, Christ also conquers gloom and the petty seriousness of evil. His victory makes the whole of this life a divine comedy – everything turns out alright in the end. Sometimes it is even funny.
Appropriately, we celebrate Easter Sunday on April 1st this year. He who laughs last laughs longest or, in this case, forever. Blessed and Joyous Easter!