Franciscans devoted to the Sacred Heart
Our Mother M. Anselma was animated by the love of Christ.  Called to follow St. Francis of Assisi, she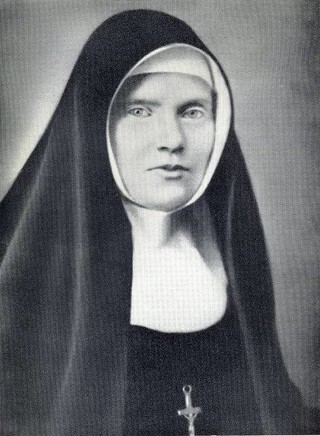 recognized her smallness before the Lord and rejoiced in His humility in becoming man for each of us.  She sought to seek His face, the face of the Poor One, the Crucified One, the Pierced Bridegroom, in all that she did.    
Mother was characterized by her firm resolve to be a holocaust before the Lord, and desired to follow Him by living a simple, joyful life.  She knew that only by gazing upon the Pierced Heart of her Savior could her own heart be transformed to be fully united to His. We, her daughters, try to follow the example that Mother set for us all. Simple, humble, joyful sisters.
 

"Do not lose courage even if your worries seem difficult.  Flee in such moments to the Sacred Heart. 

There you will always be consoled."  - Mother M. Anselma, foundress
A Word from Mother M. Maximilia
Communion: Gift and Task
In his book on the priesthood, Together on the Road, Bishop Massimo Camisasca, devotes an entire chapter to the meaning of mission. In it he states, "The apostles' being sent implies their being with Jesus. The 'being with' is not at all a provisionary remaining together which will soon be definitively resolved into mission . . . . Mission consists in expanding fraternal friendships to those whom we meet, in the awareness that communion is given to us forever." Fittingly, the chapter in entitled, "Far Apart in Order to Be Near." In order to be near!
Taking the author seriously would mean affirming that distance does not equal loss. But is this not what Jesus himself tells us? Before ascending to the Father, our Risen Lord, in the same breath, commands the apostles to "go therefore and make disciples of all nations" and assures them that he is "with them always" (Matthew 28:19-20). Communion is not only a wish or even a good intention. It is a concrete reality with many expressions. The word's origins reveals something very profound: it combines the Latin prefix, cum, with the stem, munus, meaning "task" or "duty." This suggests that communion is achieved neither by an act of the will simply nor physical nearness only. Communion means to be one with another in and through accepting the task assigned by the Lord, even when this means physical separation. It means that we love the other even more than the possibility of staying by this person's side. And in this way, we stay with the other forever! To live communion requires us to relinquish our own ideas of happiness, limited as they are, exchanging them for the truth that does not disappoint.
And what does the heart want? It wants those persons and things that we love to live – and to be ours – forever. But this is exactly what Christ promises us, and what He accomplishes in His Resurrection. In Him, nothing is lost, everything is saved. Only our certainty of this truth allows us to accept losses serenely, knowing that, in loss, we are simply being asked to hold the gift of love in a different way.
As we leave the Easter season behind, our "ordinary days" are tinged with sadness, and the overwhelming victory of His Resurrection can seem like a dream. Just when we are tempted to lassitude, the Church gives us the Solemnity of the Sacred Heart of Jesus. The victory of Christ's love is more real than anything else!