Franciscans devoted to the Sacred Heart
Our Mother M. Anselma was animated by the love of Christ.  Called to follow St. Francis of Assisi, she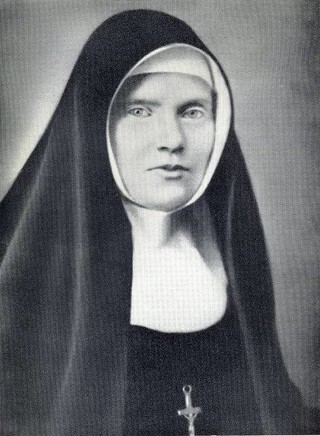 recognized her smallness before the Lord and rejoiced in His humility in becoming man for each of us.  She sought to seek His face, the face of the Poor One, the Crucified One, the Pierced Bridegroom, in all that she did.    
Mother was characterized by her firm resolve to be a holocaust before the Lord, and desired to follow Him by living a simple, joyful life.  She knew that only by gazing upon the Pierced Heart of her Savior could her own heart be transformed to be fully united to His. We, her daughters, try to follow the example that Mother set for us all. Simple, humble, joyful sisters.
 

"Do not lose courage even if your worries seem difficult.  Flee in such moments to the Sacred Heart. 

There you will always be consoled."  - Mother M. Anselma, foundress
A Word from Mother M. Maximilia
O Love!
We have run the course of another year and find ourselves, once again, before the Mystery that is Love. Everywhere the Crib is venerated is the "New Bethlehem." The point of Christ coming to Bethlehem is that He comes among us in the most unexpected places and circumstances: overlooked corners of unspoken hopes, untended gardens of forgetfulness and disappointment, and the backrooms where we store those things not fit to be seen by polite company. Jesus comes into these places because he is not company, but rather the Master of the house! By His Incarnation, Christ the Lord plumbs the depths of humanity to put in order what He finds there. As St. Augustine so aptly says, Christ, searching for His image in man, seeing it tarnished by sin, engraves it anew. Bethlehem introduces into the world the New Adam who saves the first Adam, so the "New Bethlehem" is that place where Christ's saving action reaches us – you and me – here and now.
I would like to focus our attention on one particular way that Christ reaches us. It is captured in the words, "Jesus descends into our questions." We ask questions every day, sometimes every hour or every minute. Why this turn of events? How to speak to this person? What to do with our precious free time? How to accomplish everything in the time that we do not have? But these are questions that lie on the surface. Further down, they become more fundamental and more urgent. In the end, we do not simply have questions. Rather, our lives are a question. It is precisely into this abyss that Christ the Lord has descended. To descend means to "climb down," and this kenotic movement by which Christ takes up our flesh begins, in a sense, in His eternal generation. It somehow belongs to God's nature to descend, to give in the radical manner of handing Himself over. This truth is almost more than the mind can bear. Fittingly, the word "descend" is related to the word "scandal," since the folly of God is wiser than the wisdom of men.
The Lord has descended into our midst, into our reality, and into our questions – taking up all of the uncomfortable experiences that we seek to leave behind. And because we spend the better part of our lives and energies doing this, we do not easily meet Him who has climbed down to be with us. He hides himself in our questions and our sorrows. He hides also in our joys and hopes. Those dreams we do not acknowledge, even to ourselves – He is already there. Let us not be afraid to run to Christ who loves us so recklessly that He descends into the abyss. Let us ask from the Lord the grace to hunger and thirst for Him. May this desire bring us to the New Bethlehem. May the New Adam transform us into His living images. May this grace be ours this Christmas season and every day of the New Year.