Sister M. Clementia
Tell [all people], My daughter, that I am Love and Mercy itself.
When a soul approaches Me with trust, I fill it with such an abundance of graces
that it cannot contain them within itself, but radiates them to other souls. 
~Jesus, Jesus to St. Faustina, Diary 1074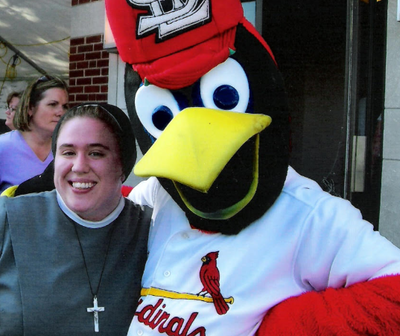 Magnanimity versus mediocrity. I was oblivious as a teenager to what these words meant, but my life would evolve into a battle between these two forces in a very radical way. Life came down to greatness or indifference & ordinariness. Encountering Jesus Christ would place me on a path to truly knowing the beauty and adventure of a life of magnanimity.
Growing up in a small Missouri town I had few options for this greatness. I invested myself in school and extracurricular activities, striving for perfection in so many areas that never defined me and ended up leaving me always searching for more. Through Christian friends, I soon discovered and developed a relationship with Jesus Christ. This relationship became a palpable experience of the joy that awaited me when I would fully hand my life over to him.  
When I was a freshman in high school, the newly formed youth group at my parish decided its first field trip would be scheduled in January of 1999 to see the now Pope Saint John Paul II in St. Louis. Setting out on this journey, I was clueless that my life was about to change forever. Although I was situated in the nose-bleed section behind the Holy Father, I remember the encounter of that moment as if he were standing right in front of me, pleading, "Christ is calling you! The Church needs you! The pope believes in you and he expects great things of you!" Hearing this statement pierced my heart. I remember sobbing and exclaiming to myself, "The Pope is talking to me! Jesus wants me for himself." This shocking revelation was so abrupt that I actually turned around and said, "Oh my gosh, did anyone hear me say that?!" I also remember keenly being aware of the many religious present at that event. One particular group struck me as they led a "candle dance" during the Youth Rally. Their joy was visible and I desired their magnanimity. I no longer wanted mediocrity to rule my life.
Discerning a call to the religious life was foreign to me; I grew up knowing only one religious sister and thinking that young Sisters didn't exist. I struggled with the concept of Christ bestowing joy upon me through this calling. I wanted to be a wife and mother. I wanted to bring forth grandchildren for my parents. The Lord had so much better in store for me.
The greatness that I felt the Lord calling me to was immersed in his mercy from the beginning. I had the unforeseen struggle of telling my parents of my vocation, and at the same time being taken by surprise with a family situation that would undermine everything I knew to be true. It was then that I saw the image of Divine Mercy for the first time. "Jesus, I trust in You" became my second-by-second prayer. I learned the school of trust by spiritually entrusting my vocation and my family situation to His Merciful Heart.
As I began the slow, yet mystical and wonderful, journey of discernment, the Divine Mercy image and devotion held my hand and led me in the direction of His Heart. I began going to adoration and reading the Diary of Saint Faustina. Reading the Saints words was like reading the story of my own soul and I found a deep love for Jesus that I didn't think was possible. His mercy became the essence of my own greatness. Daily Mass, Teens Encounter Christ, NCYC, and other events stirred my heart aflame with a love for our Lord and His Church. Attending Benedictine College in Atchison, Kansas solidified my vocation and allowed me the chance to meet joyful, young Religious from the Sisters of St. Francis of the Martyr St. George. Little did I know that these same Sisters were also the ones I saw from a distance with the candles at the Youth Rally with the Holy Father.
Coming to Alton to visit as a college student was like coming home after a long time away. I instantly felt a peace I had not known existed. This community that had been present at the beginning of my discernment journey showed me that magnanimity was possible only by God's mercy.  Finding out that the charism of this particular community was to Make the Merciful Love of Christ Visible was the last stroke of an exquisite painting of God, the last thread in the tapestry of my vocation. Giving my fiat to Christ, it is as if He responded by saying: "You have nothing to choose, you have been called. You will not serve, you will be taken into service. You have no plans to make, you are just a little stone in a mosaic which has long been ready" (Hans Urs von Balthasar).