OSF Saint Anthony's Health Center (Alton, Il)

Beginning in 1925 in Alton, Illinois, our Sisters first began working at Nazareth Infirmary caring for the sick. Throughout the years we have grown in our service of the poor and sick.  In 2014, we merged with the Sisters of the Third Order of St. Francis to form OSF Saint Anthony's Health Center.  
Now our Sisters serve in pastoral care, pharmacy, and administration in the hospital.  
Mother of Good Counsel Home (St. Louis, MO)

In 1932, our Sisters began to care for the elderly in the Mother of Good Counsel Home in St. Louis, MO. By fostering a beautiful Home of faith and joy, life continues to flourish for all our residents as they journey to our heavenly Father. We are privileged to care for the elderly as well as retired priests!
Our Sisters serve in various capacities at the Home, including administration, nursing, activities, pastoral care, finance office, and more!
Jump Simulation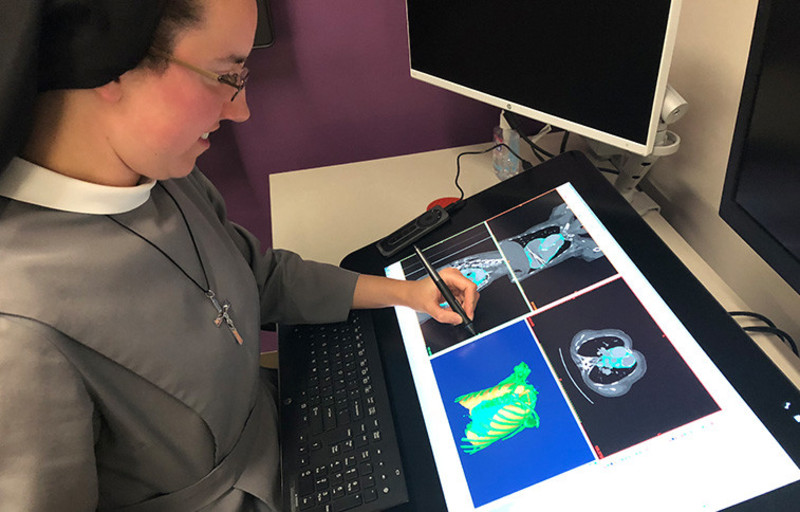 Sister M. Pieta, is an Innovation Engineer for Jump. She is working in the segmentation and virtual reality space for clinical and education use, simulation trainer design and STEAM education in the community and hospital. 
Jump Simulation was created to improve outcomes and lower health care costs through innovative simulation training of medical professionals. We are part of OSF Innovation, an initiative that was created as a means to embrace change and take on the largest health care challenges. A collaboration between OSF HealthCare and University of Illinois College of Medicine Peoria (UICOMP), Jump Sim advances the Missions of both organizations.