Care for Universal Church
Through service to pilgrims to the Shrine of Our Lady of Guadalupe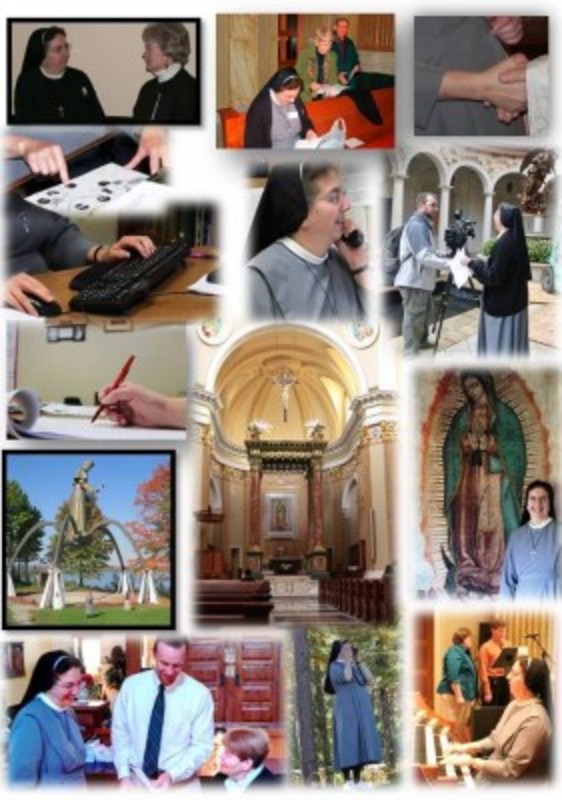 There is a lot of activity - a life-giving motion that flows among and within all who enter the doors into the Shrine, whether staff, pilgrim, volunteer. No day is the same.
The road can diverge as easily as helping a pilgrim in need of directions, coordinating volunteers,  receiving a call or visit from a salesperson, playing the pipe organ for a  pilgrimage group or for a special liturgy.
Each day I tend to a variety of tasks such as taking pictures for the  website, ads, publications, archives, social media, researching so that history can be recorded and pilgrims can understand their journey and the saints who accompany, ensuring that everything is ready for a liturgy/event, responding to requests from around the world for information about the Shrine.
My apostolate brings me on stage at times; at other times, behind the scenes. Somehow, whatever I do, I am an instrument for Our Lady of Guadalupe, who wishes her children to encounter her Son, for she is our Mother, the Star of the New Evangelization, Mother of the Unborn. 
She desires her message is to be communicated to all her children, today,  as the message was initially communicated to the Aztecs.  It is Her message that prompted Cardinal Burke, founder of the Shrine, to name this Shrine in her honor under that title.
Website:  www.guadalupeshrine.org
Through our direct service to Prelates
During the course of a day in our particular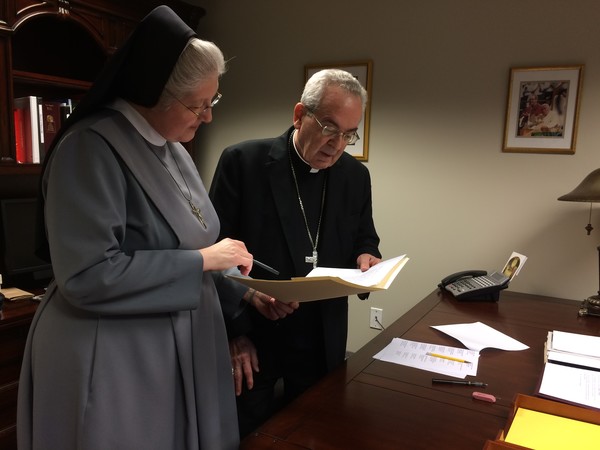 apostolate, at times we provide hands, so that those whom we serve are free to proclaim the word of God.  At other times we are able to provide the ears and the voice, so that those whom we assist are free to extend their hands.  And at other times, we provide the eyes - searching and finding - so that what is found can be handed on.  Also we fold, stuff, seal, stamp and set on its way correspondence that is meant to reach you—whomever the recipient is intended to be.  And, too, we reach out to you...in welcome.
To the best of our ability, whatever is asked of us –whatever the needs are—we are simply ready to do. 
More often than not, the work we do is done behind the scenes and, in that, we find great joy in our service, as we recall the hiddenness of our Blessed Mother during her life here on earth and how it was always her desire that the one upon whom others set their gaze is on the Person of  her Son—Jesus Christ.  The fact that she was always there for Him, is something that was surely known to Him.   
Mary, Queen of Apostles, pray for us that our faithfulness and service will be a support to all the members of His Body as we help to build up the kingdom of God.