Care for Universal Church
Through our direct service to Prelates
During the course of a day in our particular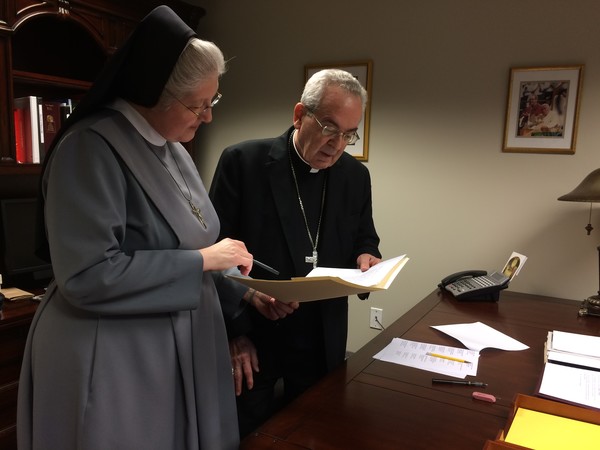 apostolate, at times we provide hands, so that those whom we serve are free to proclaim the word of God.  At other times we are able to provide the ears and the voice, so that those whom we assist are free to extend their hands.  And at other times, we provide the eyes - searching and finding - so that what is found can be handed on.  Also we fold, stuff, seal, stamp and set on its way correspondence that is meant to reach you—whomever the recipient is intended to be.  And, too, we reach out to you...in welcome.
To the best of our ability, whatever is asked of us –whatever the needs are—we are simply ready to do. 
More often than not, the work we do is done behind the scenes and, in that, we find great joy in our service, as we recall the hiddenness of our Blessed Mother during her life here on earth and how it was always her desire that the one upon whom others set their gaze is on the Person of  her Son—Jesus Christ.  The fact that she was always there for Him, is something that was surely known to Him.   
Mary, Queen of Apostles, pray for us that our faithfulness and service will be a support to all the members of His Body as we help to build up the kingdom of God.