Franciscans devoted to the Sacred Heart
Our Mother M. Anselma was animated by the love of Christ.  Called to follow St. Francis of Assisi, she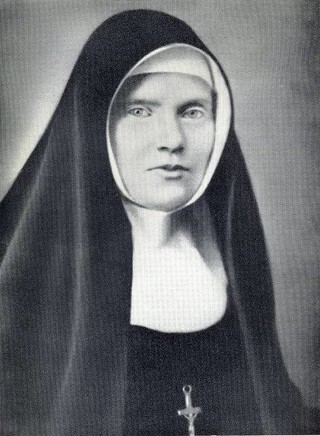 recognized her smallness before the Lord and rejoiced in His humility in becoming man for each of us.  She sought to seek His face, the face of the Poor One, the Crucified One, the Pierced Bridegroom, in all that she did.    
Mother was characterized by her firm resolve to be a holocaust before the Lord, and desired to follow Him by living a simple, joyful life.  She knew that only by gazing upon the Pierced Heart of her Savior could her own heart be transformed to be fully united to His. We, her daughters, try to follow the example that Mother set for us all. Simple, humble, joyful sisters.
 

"Do not lose courage even if your worries seem difficult.  Flee in such moments to the Sacred Heart. 

There you will always be consoled."  - Mother M. Anselma, foundress
A Word from Mother M. Maximilia
Moving Day
The days leading up to Lent were more dramatic than usual this year at St. Francis Convent. While the world's elite athletes were gathering at PyeongChang to compete for Olympic glory, the Sisters in Alton were engaged in another sort of heroic enterprise. In preparation for a convent remodeling project, we moved bedrooms! In itself, a room change is nothing remarkable. However, considering the number of people shifted in record time, the move was worthy of a gold medal.
During the process of packing and moving, here are a few things I learned:
1. AN EMPTY BOX IS BIGGER THAN A FULL BOX. Actually that statement isn't really accurate. A box retains the same physical dimensions whether it is empty or brimming over with one's treasures. However, it always seems bigger when it holds nothing. For instance, I pictured cramming a whole shelf load of books into a generous-looking cardboard box. After seven books, a pair of shoes, and a bottle of shampoo, the box was full. How could that happen? It was because my expectation was greater than real-life possibilities. Packing offers great practice in exercising custody of the imagination and accepting temporal limits. Our limitless desire awaits eternity!
2. HOME IS WHERE YOUR HEART IS, NOT YOUR STUFF. I do not feel quite settled in my new room. Partially, this is because I know it is temporary. The unfamiliarity of the new space also adds to the restlessness. However, if I am completely honest, I have to admit I was restless in my old room, too! While we take certain comfort in the things that are useful or significant to us, our hearts do not rest in them. As long as we live in exile on this earth, we will yearn for something greater. We are not fulfilled by having more stuff, but in and through an exchange of love.
3. YOU DON'T CHOOSE YOUR HELP. Initially, I did not want anyone to help me on moving day. I wanted to do it myself because I had a definite idea of how to arrange my space. Well, it did not happen! God saved me from plans that would have led to frustration and lack of accomplishment. Accepting the company and assistance of others, while bringing the discomfort of unpredictability, is always fruitful.
Moving day has offered great lesson for life. Come to think of it, perhaps all of life is moving day!